Topic
Everyone's Friend, Will Ryan
The life, works, and passing of Will Ryan…he "will" be missed
Overview
On the evening of November 19th, 2021, it was announced that long-time Adventures in Odyssey actor Will Ryan had passed away after a short illness.
Known for playing many roles on the show over the entirety of the series—including Harlow Doyle, Guy, Officer O'Ryan, and over 100 others—but most well known and most-loved by fans as Eugene Meltsner.
It has not yet been decided or announced what will happen to the character of Eugene. Will Ryan recorded many episodes before his death, so listeners can expect to hear Eugene in Odyssey throughout 2022.
Explore this page to learn more about this topic
Last Updated April 1, 2022
Top Posts
Adventures in Odyssey team responds to the passing of Will Ryan, voice of Eugene Meltsner.

COLORADO SPRINGS, CO— Today we learned that our dear friend Will Ryan passed away after a short illness. Will acted on the Adventures in Odyssey audio program since 1987. He played more than 150 characters across more than 400 episodes but was most well-known as the lovable genius Eugene Meltsner. Will was 72 years old.

Originally from Cleveland, Ohio, Will became involved in many aspects of the entertainment industry in California, especially voice acting where he's known as Petrie from The Land Before Time, Willie the Giant in Mickey's Christmas Carol, and Rabbit in several Winnie the Pooh cartoons. Throughout his thirty-five year involvement with Adventures in Odyssey, Will worked with other voice actor friends… Continue Reading →

"Greetings and salutations!" has been heard all over the world by Adventures in Odyssey listeners, the familiar and unique way in which Eugene Meltsner introduces himself throughout the series. For over 33 years, countless people have experienced the many adventures of Eugene Meltsner, his quirky way of communicating that often confuses his audience, and the many laughs and memorable moments.

It is with a heavy heart that we share the passing of Will Ryan, voice of Eugene Meltsner. Will was 72 years old. Focus on the Family recently released a statement regarding Will Ryan's passing, which you can read here.

Will Ryan first appears in the second episode The Life of the Party as Bill Moorhead. He made his official debut as Eugene Meltsner in the episode Connie, in which he begins working at Whit's End during Connie Kendall's brief departure… Continue Reading →
Articles, Posts, & More
Showrunner Marshal Younger, writer/director Kathy Buchanan, executive producer Dave Arnold, writer/director Phil Lollar, and line producer Nathan Hoobler answer your questions, like: Will Eugene and Katrina ever adopt Buck? When is the next time we'll see Emily, Morrie, and Suzu? How often are… Continue Reading →
Podcast Episodes
My tribute to the amazing actor known as Will Ryan. Recorded on 11/23/21. Read AIO's press release about Will's passing. Watch or listen to Katie Leigh & Will Ryan's podcast.

The crew reminisces the career of Will Ryan and the creativity he will be remembered for.

Jay's written post about Will Ryan's death: Goodbye, Will Ryan
Listen to Katie Leigh's full recording of Will Ryan's last words to the Tell Ya Later fans:

We were heartbroken to hear about the passing of Will Ryan on November 19. This one is for you Will!

This week the crew discusses death within odyssey and how the writing team deals with grief in relation to children. Do you remember crackers and his tale of woe? Does Focus on the Family believe in ghosts?

Katie Leigh (voice of Connie) and Will Ryan (voice of Eugene) have been on Adventures in Odyssey from the beginning. And they've known each other in real life even longer. Hear stories from the studio and what they are up to now.

The title cast members for "Gifts for Madge and Guy" (Will Ryan, voice of Eugene and Guy, and Chris Anthony Lansdowne, our host and the voice of Madge) stop by for a hold-onto-your-hats chat. The original episode aired in 1987, and more than thirty years later, "Part 2" is available in the Club now.

Katie Leigh has played Connie Kendall since AIO episode #4 in 1987. Will Ryan has played Eugene Meltsner since 1988. But they've never appeared together on an Adventures in Odyssey podcast. It's time to change that as the two of them share how they met, the truth behind their banter in the studio, and what they've been up to recently.

He's provided the voice for 60 different characters in Odyssey, but you know him best as the voice of eccentric brainiac "Eugene Meltsner"… actor Will Ryan tells all!
Discussions in the Forums
Related
Many cartoon fans appreciate Jack Benny's classic feature The Horn Blows at Midnight for its uncredited music by Carl Stalling. Among its other memorable sequences is its vision of a heavenly orchestra where Jack Benny is one of the musicians.

Will Ryan has just arrived there. He's strumming his ever-present ukulele only a few seats from Jack, looking around with joy at his great location.

Will already knows almost most of the musicians, singers and actors there. He met them years ago in person or learned all he could about them. Rather than drop names, he elevated them. He made people and things out to be more interesting than he was. Continue Reading →

THE MAN OF 1000 VOICES?

No, that's the sobriquet of the revered voice actor Mel Blanc. A Master. But Will Ryan has Mel's piano (one of three in his Santa Monica home of 15 years), bought at auction, and while Blanc is now recording in the studio in the sky, Will is still with us and could yet zoom past "1000 voices." Um — what day is it? But Ryan seems to also have 1000 other talents.

He claims no mastery of piano but does compose songs there. But he can play almost anything with strings, favors the ukulele for its portability and modest profile, and can create a new song on the spot, music and words. Continue Reading →

How I hated typing that subject line. My friend — everybody's friend, actually — Will Ryan died a few hours ago. The cause was Cancer. His Wikipedia page says he was born in 1939 which would make him 82 but I don't know anyone who knew Will who believes he was anywhere near that old. He was so full of energy and talent and he sure didn't look 82. He was also one of the nicest people you could ever want to meet.

He was an actor, a historian, a voiceover specialist, a songwriter, a singer…in fact, he was a singing cowboy. There aren't many openings these days for singing cowboys but one day, Will decided he wanted to be one and danged if he didn't become one. He and his posse — the Cactus County Cowboys — could often be found at local theaters and nightclubs playing songs that sounded like they could have been from the days of Roy Rogers and Gene Autry but which were freshly written by Will. Continue Reading →

A top voice actor in dozens of films, Will Ryan became a core cast member of Adventures in Odyssey starting with the show's second episode in 1987 — up to the present day.

"Let me tell you: he still had his sense of humor in the hospital," Katie Leigh said of her close friend Will Ryan, a voice actor known for his role in faith-based audio drama Adventures in Odyssey. Ryan died on November 19 following a short battle with cancer. He was 72.

Leigh acted alongside Ryan for 37 years. "I've lost one of my best buddies to cancer," said Leigh in a phone interview from Los Angeles. "We worked on a lot of stuff together, becoming like brother and sister." Many said the same. Continue Reading →
Pictures
Music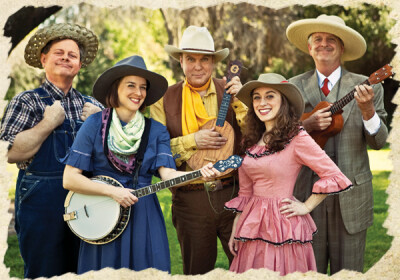 Will Ryan was well known for his music and improvisational diddys on his ever-handy ukulele. He had a band called "Will Ryan and the Cactus County Cowboys" that would tour and play shows. They also released two albums.
Listen to and purchase Will Ryan's musical productions on bandcamp.